The Marks and Spencer Summer Beauty Box is back! Only this time it doesn't come in a box and is hence renamed the Summer Beauty Bag.
God I could do with a bit of cheer right now. And here it comes in the shape of Marks and Spencer's annual seasonal pick from its beauty department.
It's a mixture of hair, skincare and make up, worth over £100. Lots of full sizes and a few decent travel/sample sizes. All ready for your trip to Costa Del Backgarden.
You pay £15 as long as you have also spent £25 across clothing, home and beauty, and this is what you get: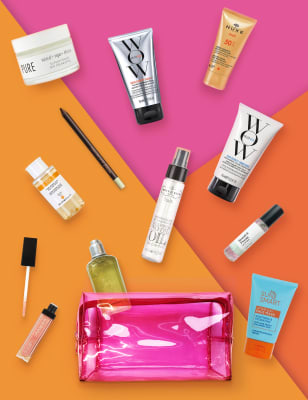 1x30ml Nuxe Sun Melting Cream High Protection for Face SPF50 (travel size value £11.10)
1x70ml L'Occitane Verveine Shower Gel (travel size value £4.62)
1x50ml M&S Sun Smart After Sun Face Mask (full size RRP £6.50)
1x10ml M&S Seasalt & Freesia Eau de Toilette (sample size value £1.25)
1x6ml Autograph Colour Shine Lip Lacquer in Sorbet (full size RRP £10)
1x60ml Percy & Reed Smoothed, Sealed & Sensational Volumizing No Oil OIL for fine hair (full size RRP £15)
1x50ml Ren Ready Steady Glow Daily AHA Tonic (travel size value £5.40)
1x75ml Color WOW Color Security Shampoo (full size RRP £10)
1x75ml Color WOW Color Security Conditioner (full size RRP £10.50)
1x Pixi Endless Silky Eye Pen in Black Noir (full size RRP £12)
1x50ml Pure Super Hydrate Day Cream SPF15 (full size RRP £16)
I add that up to £102.37. M&S are claiming a £110 value, though maybe they are including the cost of the reusable pink plastic case it all comes in. The bag reminds me a lot of the recent Caroline Hirons Spring Kits so maybe they use the same supplier.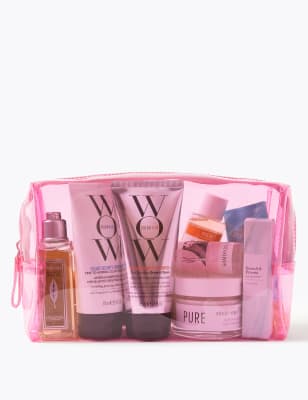 Over all I think this is a nicely curated collection that should work well for most people. If your hair is a bit fried and missing your hairdresser then the shampoo and conditioner look particularly good. If I was being picky then I'd rather see any other colour than a black eyeliner because surely everyone's already got one of those. But then again if you're going for mass appeal then I guess it makes more sense to stick to something that the majority will use. But next year, M&S, go wild. Stick a vivd green eyeliner in there, even if people moan about it. 2021 is going to be wild, trust me. We need to celebrate.
Where to find the Marks and Spencer Summer Beauty Box 2020
You can find the Marks and Spencer Summer Beauty bag online here.
This box is currently showing as out of stock online, but with more on the way. I'm guessing that this is to do with moving around stock that was due to be in stores and making it available online. So keep checking back as it is likely to be re-available very soon.
Given that M&S only have some food stores open for at least the next few weeks, I'm guessing that this is going to mainly be online only. I very much doubt that it will still be in stock by the time more stores open on the 15th of June.
*Contains affiliate links, though TBH I'm not sure why I'm bothering since M&S have stopped their affiliate scheme for now. Force of habit, I guess.
Find more Marks and Spencer beauty reviews, including previous summer beauty boxes, here